Recently we were introduced to the benefits of using bentonite clay to aid in the detox process after using the essential oils massage technique.
Never heard of bentonite clay before? Well, then you may be very surprised to hear that it is a "healing clay" that cleanses and yes even heals the body.
We have started using bentonite clay with some of our clients and have begun to see really positive results. Bentonite clay, also called Montmorillonite clay, is taking off as a wellness trend among people who are looking to help "detoxify" their bodies and defend against illnesses. While it's been used for centuries around the world to promote better health and ward off disease, this healing clay recently gained some spotlight in the US and Europe as a trusted product that can be added to any detoxification program.
Bentonite Clay Benefits in History
Bentonite clay is composed of ash made from volcanos. The largest known source of bentonite clay is found in Fort Benton, Wyoming where numerous volcanos are present, so the name of the clay stems from the town where today much of the supply is still harvested.
The other name that bentonite clay is typically given, Montmorillonite clay, stems from the region of France called Montmorillon, where the clay was first discovered. Today the clay is harvested mostly in The US, France, and Italy. "Bentonite" is actually the trade name that the clay has been given, but people for the most part speak about Montmorillonite and Bentonite clay interchangeably and are referring to the same product.
Bentonite clay stems back far in history as a traditional healing method for protecting the body from disease. It has been reported that several traditional cultures living in regions of the Andes, Central Africa and Australia have consumed clays in numerous ways for centuries. Because the clay is readily available and required no modern processing, it has been a popular and cost-effective way of "detoxing" the body for quite some time.
How Bentonite Clay Works
We come into contact with a range of toxins numerous times every day, as toxins are given off from common products like paint, cleaning supplies, markers, substances used in building homes, low-quality unpurified water, and even pesticides a that are widely sprayed regions that have farming present. Vaccines introduce many toxins into our bodies and it is quite common to inject a range of different toxins just by breathing in the fumes that are present all around us, not to mention the toxins that we receive from an unhealthy diet filled with low-quality processed foods.
"Heavy metal toxins" usually refer to substances like mercury, cadmium, lead, and benzene. These can be found in the products previously mentioned, and also in foods that contain high fructose corn syrup or certain types of fish. Bentonite clay benefits your body by helping to expel many of these toxins and therefore increases immunity and reduces inflammation.
As has already been stated It is believed that heavy metal poisoning, such as with vaccines that contain mercury, aluminum and other toxins that are injected directly into the bloodstream as well as other toxic chemicals we are exposed to on a daily basis, are a major factor in the underlying cause of autoimmune disorders. Essential Oils will help with chelation so it is important that gentle detoxification take place when undergoing an essential oils program.
On top of being able to draw-out toxins from the body, the clay itself has a range of nutrients. Bentonite clay is known to have an abundance of minerals including calcium, magnesium, silica, sodium, copper, iron, and potassium.
When working with essential oils to support the body's natural healing process be sure to detox! Along with an Epson salt bath regimen we recommend a clay bath at least once a week.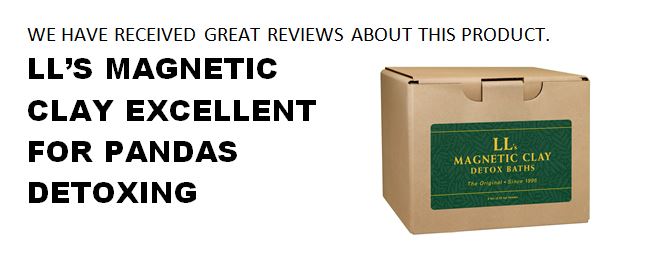 Click Here For More Information: http://www.magneticclay.com/340-3.html